Selo oblaka je selo iz zemlje munje, jedne o pet velikih šinobi nacija.
Istorija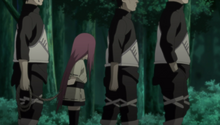 Selo se nalazi na visokim planinama, bukvalno skriveno u oblacima. Selo je posedovalo dve zveri od koje je dvorepa mačka ukradena. Sada selo pored Sela lišća je jedino selo u Šinobi alijansi, koje poseduje repatu zver, s obzirom da su Akacki protiv koga se bore u posedstvu sedam repatih zveri.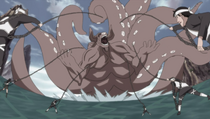 Po rečima Četvrtog Raikagea, Selo oblaka jedino nije koristilo Akacki organizaciju. Medjutim Selo oblaka je za razliku od drugih sela vršilo samo prikrivene operacije protiv drugih sela. Poznata su dva slučaja pokušaja otmice, prvi Kušine Uzumaki i drugi Hinate Hjuge tokom Hjuga incidenta, oba pokušaja su osujećena, a oba su bila usmerena protiv Sela lišća, sa namerom da se ukradu tajne tehnike. Cučikage Onoki je izjavio kako je Selo oblaka tokom razoružavanja i primirija medju selom stalno se naoružavalo i gomilalo moćne tehnike, pa da su drugi bili prinudjeni da angažuju Akacki.
Raikage Lista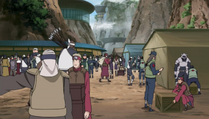 Raikage - A
Raikage - A
Raikage - A
Raikage - A
Raikage - Darui
U vlasništvu Sela Oblaka je osmorepa zver (Gjuki). Njen Džindžuriki je Kiler Bi.
Klanovi
Zanimljivosti
U poglavlju mange 102 spomenut je Glavni nindža iz Zemlje oblaka, ali je on preimenovan u Glavnog nindžu Sela oblaka. Kakva je zaista pozicija ovog nindža i zašto njegova uniforma odudara od standardne uniforme Sela oblaka, još nije objašnjeno.
Ad blocker interference detected!
Wikia is a free-to-use site that makes money from advertising. We have a modified experience for viewers using ad blockers

Wikia is not accessible if you've made further modifications. Remove the custom ad blocker rule(s) and the page will load as expected.