Selo skriveno u vrtlogu je selo koje se nalazilo u zemlji virova.

Selo je razoreno za vreme nindža ratova, a stanovnici koji su preživeli su se raselili širom sveta. 
Stanovnici sela su bili dugovečno pa je selo poznato kao "selo dugovečnosti".
Selo je prikazano da ima nekoliko viskokih gradjevina,kroz selo protiče široka reka.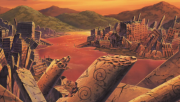 Selo je imalo bliske veze sa selom lista, jer su pripadnici Uzumaki klana bili rođaci Sendžu klana. Kao znak jakog prijateljstva čunini i džonini sela lista na leđima nose znak sela vrtloga.
Ad blocker interference detected!
Wikia is a free-to-use site that makes money from advertising. We have a modified experience for viewers using ad blockers

Wikia is not accessible if you've made further modifications. Remove the custom ad blocker rule(s) and the page will load as expected.