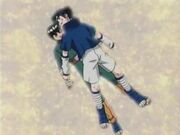 Senka razigranog lista je taidžicu tehnika, korisnik tehnike u vazduhu prati svog protivnika i to baš kao i senka list. Tehniku prethodi brz i jak udarac u bradu. posle čega protivnik postaje bespomoćan, ova tehnika je sama po sebi bezopasna, ali se upotrebljava kao podloga za druge tehnike kao što Lavovska paljba i Frontalni lotus.
Ad blocker interference detected!
Wikia is a free-to-use site that makes money from advertising. We have a modified experience for viewers using ad blockers

Wikia is not accessible if you've made further modifications. Remove the custom ad blocker rule(s) and the page will load as expected.