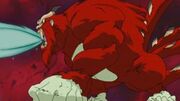 Son Goku (孫悟空, Son Gokū) je četvorepa zver koja je bila u vlasništvu sela kamena, kasnije je zarobljena od strane Akackija.
Pozadina

Son Goku je četvrti od devet repatih demona, koji su nekada svi zajedno bili sjedinjeni u desetorpeog demona Džubi. Mudrac šest staza(rikudo senin) je u sebe zarobio desetorepog demona, postavši prvi džindžuriki ili osoba koja u sebi ima čakra demona. Mudrac je od tog trenutka smatran nalik bogu. Medjutim na samrtio mudra je znao da će demon kao on umre da se oslobodi, pa je podelio njegovu čakru na devet repatih zveri, a telo demona zatvorio u sveran oblik i poslao ga na nebo, što je postalo mesec.
Kasnije je zarobljen u Rošija.
Zanimljivosti
Son Goku je dobio ime po glavnom liku Zmajeve Kugle, Goku-u.
Ad blocker interference detected!
Wikia is a free-to-use site that makes money from advertising. We have a modified experience for viewers using ad blockers

Wikia is not accessible if you've made further modifications. Remove the custom ad blocker rule(s) and the page will load as expected.