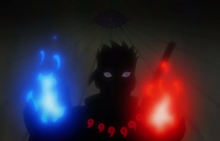 Stvaranje svih stvari je veoma moćna tehnika Jin-Jan čakre koju je usavršio i izmislio Hagoromo Ocucuki, Mudrac šest staza. Ovom tehnikom Hagoromo je stvorio Devet repatih demona, Indru i Ašuru takođe i savremeni nindža svet. Takođe ova tehnika ima mogućnost da udahne nekom život, kao što je Hagoromo udahnuo život Ašuri i Indri a takođe i Repatim zverima, da bi se tehnika savladala potrebno je imati Šakujo koji je posedovao Hagoromo, i njegovu jedinstvenu čakru.
Ad blocker interference detected!
Wikia is a free-to-use site that makes money from advertising. We have a modified experience for viewers using ad blockers

Wikia is not accessible if you've made further modifications. Remove the custom ad blocker rule(s) and the page will load as expected.