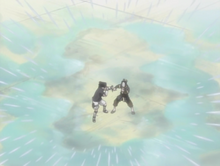 Ovo je tajna tehnika koju koriste članovi Juki klana. Korisnik prikuplja vodu koja je oko njega ili je stvara čakrom. Zatim, daje vodi oblik senbona i usmerava ih ka protivniku. Ovo je jedna od retkih tehnika za koju treba izvesti znakove jednom rukom. Ovom činjenicom je bio začuđen i Kakaši koji je poznavalac na hiljade tehnika
Ad blocker interference detected!
Wikia is a free-to-use site that makes money from advertising. We have a modified experience for viewers using ad blockers

Wikia is not accessible if you've made further modifications. Remove the custom ad blocker rule(s) and the page will load as expected.