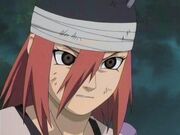 Tajuja (jap. 多由也, engl. Tayuya) je bila kunoiči iz sela zvuka i jedini ženski član četvorke zvuka.
Sposobnosti
Tajuja je veoma inteligentna, imala je odlične stretegije i dosta je dobro parirala Šikamaruu. Prema Šikamaruu bila bi dobar igrač Šogija (japanskog šaha). Tajuja tvrdi da je drugi najači član četvorke zvuka.
Kao i ostali članovi četvorke zvuka, ima prokleti pečat i dobra je u korišćenju barijera. Drugi nivo znaka kletve drastično menja njei izgled i povećava joj snagu, mogla je da se odupre Šikamaruovoj tehnici manipulisanja senke.
Tajuja je jedini član četvorke zvuka koji koristi zvuk u borbi. Ona pomoću svoje flaute kontroliše dokie.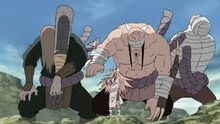 Pregled priče
Tajuja se prvi put pojavljuje za vreme invazije na selo lišća kada je zajedno sa ostatkom svog tima napravla veliku barijeru oko mesta gde su se borli Oročimaru i Hiruzen.
Kasnije je poslata od strane Oročimarua da zajedno sa ostatkom četvorke zvuka dovede Saskea Učihu. Kada je stigla u Konohu Saske je dobrovoljno odlučio da pođe. Na putu ka selu zvuka, četvorka se susreće sa dva džonina iz sela lista i koriste svoje znakove kletve da ih pobede. Dok se Sakon borio sa Kibom, Tajuja se borila sa Šikamaruom. U borbi je koristila Dokije i svoj zvučni gendžicu, verovatno bi Tajuja ubila Šikamarua, ali se Temari pojavljuje i koristeći svoj vetroviti nindžicu ubija Tajuju.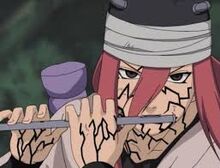 Ad blocker interference detected!
Wikia is a free-to-use site that makes money from advertising. We have a modified experience for viewers using ad blockers

Wikia is not accessible if you've made further modifications. Remove the custom ad blocker rule(s) and the page will load as expected.