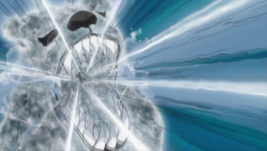 Dnevni tigar je tajdžicu ubistvena tehnika rođena iz Gajeve ludačke filozofije. Za ovaj džicu je potrebno otvoriti sedam od osam unutrašnjih kapija. Korisnik pravi specionalni znak ruku i oslobađa ogromnu količinu vazduha oko sebe koju šalje na protivnika velikom silom stvarajući vazdušnu iluziju nalik na tigra koji pogađa protivnika. Gaj je ovom tehnikom skoro ubio Kisamea.
Ad blocker interference detected!
Wikia is a free-to-use site that makes money from advertising. We have a modified experience for viewers using ad blockers

Wikia is not accessible if you've made further modifications. Remove the custom ad blocker rule(s) and the page will load as expected.