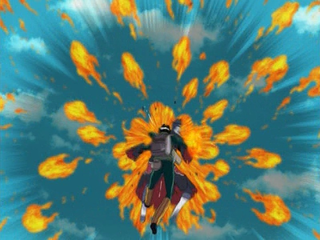 Ovo je tipična Tajdžicu-ubistvena tehnika rođena iz filozofije Moćnog Gaja. Princip je brzo povećanje snage otvaranjem 6. unutrašnje kpije, a zatim udariti protivnika sa bezbroj udaraca. Korisnik šutira protivnika u vazduh i poleće za njim i udara ga jako puno puta. Udarci su tako brzi da su pukom brzinom zapalili trenje, što zbog toga stvara kao auru u obliku pauna oko protivnika. Kada se napad završi protivnik će padati na zemlju sa ovom aurom.
Ad blocker interference detected!
Wikia is a free-to-use site that makes money from advertising. We have a modified experience for viewers using ad blockers

Wikia is not accessible if you've made further modifications. Remove the custom ad blocker rule(s) and the page will load as expected.