Tehnika Klonova senke (Kage Bunshi No Jutsu), tehnika drugog hokagea, stvara klonove kao i obična tehnika klona. Kod ovih klonova čakra korisnika je ravnopravno raspoređena, dajući svakom klonu ravnopravnu snagu korisnika. Klonovi mogu da obavljaju samostalno tehnike, pa čak i da krvare, ali većina nestaje posle jednog ili dva udarca. Oni će biti napravlljeni u kondicijalnom stanju u kakvom je i korisnik.Klonovi se ne mogu razlikovati od originalnog korisnika čak ni od strane Bjakugana jer klonovi imaju istu količinu čakre i nisu napravljeni od neke druge supstance. Klonove senke najviše koristi Naruto. U prvom delu ih je koristio samo za obične napade i Rasengan. Dok im je u drugom delu doda Sendžicu Čakru da bi uz pomoć njih iskoristi Džicu Rasengan Mega Baraž.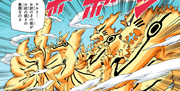 Tokom poslednje borbe sa Saskeom Naruto je uspeo da koristi Senke Klona u Modu Repate Zveri.
Zanimljivosti
Saske je jednom rekao da Šaringan može da razlikuje klonove od originala, ali ova činjenica nije praćena mangom.
Tokom Kakaši Hidena dok je Naruto čekao prostetičku ruku uspevao je da stvori senke klona simbolom sa jednom rukom
Korisniku ostaje u sjećanju sve što vide i nauče klonovi što je narutu pomoglo pri treningu Rasenšurikena.
Ad blocker interference detected!
Wikia is a free-to-use site that makes money from advertising. We have a modified experience for viewers using ad blockers

Wikia is not accessible if you've made further modifications. Remove the custom ad blocker rule(s) and the page will load as expected.