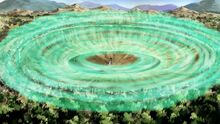 Tehnika oživljavanja spoljašnje staze(Gedō - Rinne Tensei no Jutsu) je tehnika kojom korisnik može da vrati skroz u život mrtvu dušu. Poznati korisnik ove tehnike je Nagato Uzumaki, ovu tehniku je upotrebio kako bi vratio u život sve ljude koje je pobio tokom invazije na selo lista. Sumnja se da je Nagato jedini poznavalac ove tehnike, mada za razliku od Edo Tenseia, ova tehnika ne može da vraća ljude u život ako im je telo na dnu mora (Što je slučaj sa Džerajom)ili na neki način uništeno. Razlika između ove tehnike i Edo Tenseia je da ova tehnika skroz vraća ljude u život (I zato nije zabranjena tehnika), a Edo Tensei vraća samo zombije koji moraju da budu kontrolisani. Kod Edo Tenseia korisnik koristi priziva mrtvu dušu u telo žive žrtve a kod ove tehnike se duša vraća u njeno pravo telo.
Zanimljivosti
Ad blocker interference detected!
Wikia is a free-to-use site that makes money from advertising. We have a modified experience for viewers using ad blockers

Wikia is not accessible if you've made further modifications. Remove the custom ad blocker rule(s) and the page will load as expected.