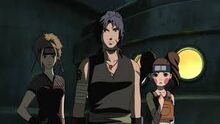 Tim Šira je bio tim Genina iz sela Peska, koji se sastoji od
Šire
, Jome i Sen. Tim je učestvovao na Čunin ispitima koji su se održavali u Selu peska. Dok tim nije shvatio da su potrebni spisi u drugoj fazi čunin ispita, iznenadne promene obnovile su mogućnost da postanu čunini. Dok je
Šira
unapređen, nije poznato da to takođe primenjuje Jome i senatora. Ubrzo posle ispita, tim je raspušten, sa Širom i Jome ostavljajući ih da se prijave u posebnim odredima u blizini severne granice Zemlje Vetra, ostavljajući Sen iza kao član koji ostaje u selu Peska.
Članovi
| Članovi | Status |
| --- | --- |
| Šira | Živ |
| Sen | Živa |
| Jome | Živa |
Zanimljivosti
Svaki član ovog tima je specijalizovan u jednoj od tri glavne vrste džicua: Šira je korisnik tajdžicua, Jome je korisnik nindžicua i Sen je korisnik gendžicua.
Ad blocker interference detected!
Wikia is a free-to-use site that makes money from advertising. We have a modified experience for viewers using ad blockers

Wikia is not accessible if you've made further modifications. Remove the custom ad blocker rule(s) and the page will load as expected.