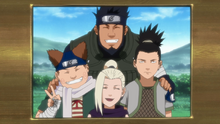 Tim 10 ili tim Asuma je generacija Ino-Šika-Čo Tria. Kao takav, članovi tima su dobri prijatelji i imaju izuzetan timski rad, iako imaju sklonost da se svađaju s vremena na vreme. Lider tima je bio Asuma Sarutobi, a posle njegove smrti u drugom delu privremeno ih je preuzeo Kakaši Hatake. Pretpostavlja se da tim više ne postoji.
Zajedno sa ostatkom Konohe 11 tim je odlučio da ubije Saskea Učihu, zbog napada na Raikageovog mlađeg brata. Međutim, Naruto ih je ubedio da ode sam.
Posle rata tim najverovatnije više ne postoji jer je Šikamaru postao džonin i Narutov savetnik kada je postao Hokage i oženio se sa Temari i dobio sina,Čodži se oženio sa Karui i dobio ćerku,Ino se udala za Saija i dobila sina. Šikamaru,Čodži i Ino se i dalje sastaju da bi trenirali svoje naslednike.
Ad blocker interference detected!
Wikia is a free-to-use site that makes money from advertising. We have a modified experience for viewers using ad blockers

Wikia is not accessible if you've made further modifications. Remove the custom ad blocker rule(s) and the page will load as expected.