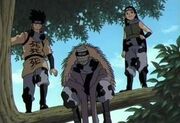 Tim Dosu je grupa od tri nindže zvuka, čiji je vodja u tajnosti Oročimaru.
Članovi ovog tima su Dosu Kinuta, Kin Cuči i Zaku Abume.
Pozadina
Tim Dosu je stvoren od strane Oročimarua, kako bi se takmičili na Čunin ispitima i približili se Saskeu Učihi, za koga je Oročimaru zainteresovan, zbog Šaringana.
Od svih članova tima, samo je Zakuova prošlost poznata, čime se bavio pre nego što je stupio u tim, da je bio siromašan i da je ukrao hleb zbog koga je bio pretučen. Oročimaru mu pruža mogućnost da postane moćan.
Članovi ovog tima poseduju tehnike vezane za zvuk. Dosu na desnoj ruci poseduje napravu za emitovanje talasa zvuka, koji pri sudaru sa neprijateljem izazivaju oštećenje. Zaku poseduje vazdušne topove ugradjene u šake koje ispaljuje kroz rupe na dlanovima, a Kin koristi zvončiće kako bi izazavala duplu sliku kod neprijatelja. Potom ga ubija senbonima.
Članovi tima Dosu su svi poginuli. Dosu je ubijen od strane Gare, dok je Oročimaru iskoristio povredjene Kin i Zakua kao žrtve za prizivanje iz mrtvih Prvog i Drugog Hokagea.
Ad blocker interference detected!
Wikia is a free-to-use site that makes money from advertising. We have a modified experience for viewers using ad blockers

Wikia is not accessible if you've made further modifications. Remove the custom ad blocker rule(s) and the page will load as expected.