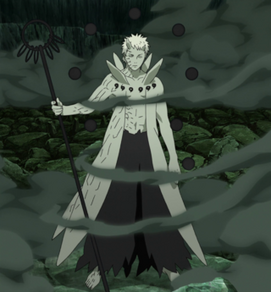 Traženje istinite lopte (ili Truth-Seeking Ball) su kugle sfere iskovane od crne čakre. Sastoje se od svih pet prirodnih elemenata i Jin i Jang izdanja i oni su takođe u stanju da negiraju svaki nindžicu.
Korišćenje
Ove kugle se pojavljuju u kružnom obliku i generalno plutaju iza korisnikovih leđa. Kugle se mogu oblikovati u različitim oblicima i mogu se kombinovati sa prirodnom energijom da izazovu različite efekte. Obito Učiha ih je koristio u obliku kugle, tako što bi ih proturio kroz rupe koje bi se privremeno pojavile na njegovim rukama, dok su drugi korisnici izbegavali ovaj proces i jednostavno ih oblikovali. Kuglice mogu imati različite namene, za napad, za odbranu ili da budu oko korisnika kao štit, ili ih lansirati kao projektile velikom brzinom. Oni su takođe u stanju da izazovu velike eksplozije i da se šire. Kugle takođe mogu jako brzo da saniraju povrede pri fizičkom kontaktu (u animeu bi dok saniraju povredu bile crvene). Svaka od njih je veličine pesnice i ima dovoljnu snagu da uništi šumu. Prema Minatu Namikazeu kuglice su uvek u pripravnosti za napad i odbranu, ali se ne aktiviraju same od sebe. Hirunzen Sarutobi kaže da ova tehnika kada napadne pretvori protivnika u prah, kao Pršnjavi stil, ali su i jako dobri u odbrani. Hirunzen je još opazio da, pošto je kuglica sačinjena više od tri prirodna elementa nije ni Kekei Genkai ni Kekei tota, ali je veći od oboje. Tobirama Sendžu kaže da su oni kombinacija jin i jang izdanje i može da poništi bilo koji nindžicu, ako ga kuglice dotaknu. Kuglice se mogu koristiti za kreiranje legendarnog mača Nunobokua. Prema Četvrtom Hokageu lopte imaju domet 70 metara od korisnika. Nije poznato da li se uništene lopte obnavljaju ili se zamenjuju novim.
Varijacije
Ad blocker interference detected!
Wikia is a free-to-use site that makes money from advertising. We have a modified experience for viewers using ad blockers

Wikia is not accessible if you've made further modifications. Remove the custom ad blocker rule(s) and the page will load as expected.