Treći Kazekage je u prošlosti bio jedan od vodja sela peska i poznat je kao najjači Kazekage u istoriji.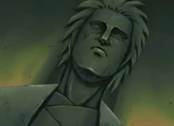 Pozadina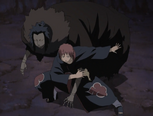 Treći Kazekage je proučavajući repatu zver, Šukakua, kombinovao svoj magnetni stil i prah gvožđa da napravi gvozdeni pesak, ova tehnika mu je pomogla da postane najači Kazekage u istoriji sela peska.
U prošlosti Sasori je kidnapovao Trećeg Kazekagea, ubio ga i pretvorio ga u ljudsku lutku. Sasori je istakao da je to njegova omiljena lutka. Selo peska je dugo tragalo za Trećim Kazekageom, ali zbog izbijanja rata morali su da imenuju Četvrtog Kazekagea.
Sposobnosti
Dok je bio živ Treći Kazekage je smatran najačim kazekageom u istoriji sela peska. Posedovao je kekei genkai Magnetni stil. Jedan od džindžurikia ga je inspirisao da stvori gvozdeni pesak, spajanjem gvožđa i magnetnog stila
Zanimljivosti
Od Kagea jedino se njemu i Trećem Mizukageu ne zna ime
Ad blocker interference detected!
Wikia is a free-to-use site that makes money from advertising. We have a modified experience for viewers using ad blockers

Wikia is not accessible if you've made further modifications. Remove the custom ad blocker rule(s) and the page will load as expected.