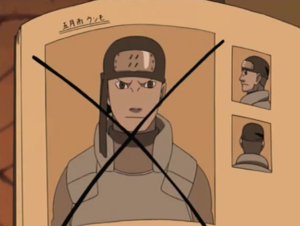 Unmo Samidare je bio džonin nindža iz sela magle.
Pozadina
Unmo je bio poznat po svojoj netrpeljivosti prema selu lista. Danzo je mislio da bi on mogao biti pretnja za selo i naredio je da ga eniminišu.
Ličnost
Unmo je bio poznat po svojim osećanjima protiv Konohe.
Sposobnosti
Njegove sposobnosti su nepoznate ali je Jamato rekao da je on bio veoma jak nindža.
Zanimljivosti
Samidare znači rana letnja kiša.
Ad blocker interference detected!
Wikia is a free-to-use site that makes money from advertising. We have a modified experience for viewers using ad blockers

Wikia is not accessible if you've made further modifications. Remove the custom ad blocker rule(s) and the page will load as expected.