Vatreni stil: Džicu Vatrene Lopte

Ime

Japanski
火遁・豪火球の術
Engleski
Fire Release: Great Fireball Technique, Fire Style: Fireball Jutsu

Pojavljivanje

Manga
poglavlje #7
Anime
Naruto epizoda #5
Pojavljivanje
manga, anime

Podaci

Klasifikacija
Nindžicu
Rank
C-rank
Klasa
Ofanzivna
Znakovi rukama
Tigar ili Zmija-Ovan-Majmun-Vepar-Konj-Tigar
Korisnici

Većina članova Učiha klana i Kakaši Hatake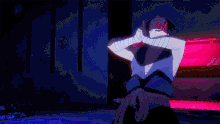 Tehnika gde čakra uđe unutar tela i pretvara se u veliki plamen čiji posedovatelj izbaci pomoću usta. Obim napada promenjene čakre koja se kontroliše. Oslobođeni plamen će progutati svoj cilj a protivnika jako raniti ili ga ubiti. Ovoj tehnici je potrebno više od prosečnih rezervoara čakre i većina Genina bi bila dovedena u situaciju da ne uspe da uradi ovu tehniku. Učihe uglavnom najbolje koriste i poseduju ove tehnike, oni ga nazivaju " određenje godina punoletstva" jer bi to neke početnike povredilo. I kao takva, ova tehnika se među njima koristila kao jedna od favorizovanih.
Ad blocker interference detected!
Wikia is a free-to-use site that makes money from advertising. We have a modified experience for viewers using ad blockers

Wikia is not accessible if you've made further modifications. Remove the custom ad blocker rule(s) and the page will load as expected.