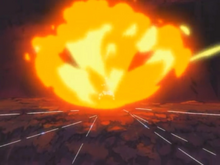 Tehnika zmajeve vatre je prosečna vatrena tehnika C - Ranga. Prvi put je viđena kada ju je Saske iskoristio protiv Oročimarua u šumi smrti. Za razliku od većine vatrenih tehnika kod ovog džicua se vatra ne izbacuje iz usta već jednostavno ide iz korisnika. Saske je ovom tehnikom uspeo da istopi Oročimaruovu kamuflažu.
Ad blocker interference detected!
Wikia is a free-to-use site that makes money from advertising. We have a modified experience for viewers using ad blockers

Wikia is not accessible if you've made further modifications. Remove the custom ad blocker rule(s) and the page will load as expected.