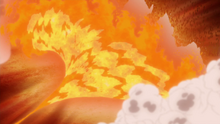 Ovo je jedna od najmoćnijih vatrenih tehnika B - Ranga. Poznati korisnik ove tehnike je Madara Učiha. Korisnik prikupla potrebnu čakru koju koristi da napravi ogromnu količinu vatre koju usmerava na protivnika. Madara je ovu tehniku koristio da pobije dobar deo nindži šinobi alijanse.
Ad blocker interference detected!
Wikia is a free-to-use site that makes money from advertising. We have a modified experience for viewers using ad blockers

Wikia is not accessible if you've made further modifications. Remove the custom ad blocker rule(s) and the page will load as expected.