Veliki Rasenšuriken

Ime

Japanski
Ōdama Rasenshuriken
Engleski
Giant Rasen Shuriken

Pojavljivanje

Manga
Poglavlje 655
Anime
Naruto Šipuden Epizoda 387
Pojavljivanje
Manga,Anime

Podaci

Klasifikacija
Nindžicu,Sendžicu,Kindžicu
Rank
/
Klasa
Ofanzivna
Znakovi rukama
/
Korisnici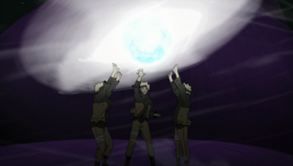 Veliki Rasenšuriken se isto pravi i koristi kao i običan Rasenšuriken, samo što je dosta veći.
Ad blocker interference detected!
Wikia is a free-to-use site that makes money from advertising. We have a modified experience for viewers using ad blockers

Wikia is not accessible if you've made further modifications. Remove the custom ad blocker rule(s) and the page will load as expected.