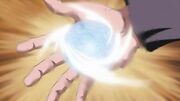 Vetroviti stil: Rasengan je tehnika koja je kreirana od strane Naruta Uzumakija na osnovu Rasengana.
Naruto
meša svoj vetroviti element i Rasengan, dobijajući novi Rasengan koji zadržava staru stabilnosti i povećava moć, pa je daleko moćniji od običnog Rasengana. Da bi ga Naruto upotrebio potrebn mu je da napravi dva klona senke.
Ad blocker interference detected!
Wikia is a free-to-use site that makes money from advertising. We have a modified experience for viewers using ad blockers

Wikia is not accessible if you've made further modifications. Remove the custom ad blocker rule(s) and the page will load as expected.