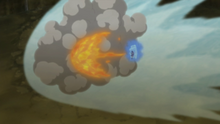 Ovo je odbrambena tehnika gde se čakra skupljena u telu, pretvara u vodu i biva izbačena iz usta u jednoj gustoj, zakrivljenoj bujici,koja stvara cirkularnu barikadu, koja služi da zaštiti od nadolazećih napada. U njeoj borbi protiv Madare, Mej je uspela da priguši Veliko vatreno uništenje,za šta je potrebno veoma vešto korišćenje vode.
Ad blocker interference detected!
Wikia is a free-to-use site that makes money from advertising. We have a modified experience for viewers using ad blockers

Wikia is not accessible if you've made further modifications. Remove the custom ad blocker rule(s) and the page will load as expected.