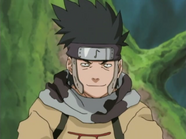 Zaku Abume (jap. ザク・アブミ,engl. Zaku Abumi) je jedan od genina zvuka i antagonista u prvom delu mange i anime Naruto.
Pozadina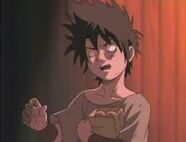 O Zakuovoj prošlosti se malo zna, osim iz njegovog flešbeka tokom borbe sa Šinom Aburameom. Iz toga se vidi da je Zaku ukrao hleb i bio zbog toga pretučen, tik pošto ga je Oročimaru regrutovao. Takodje se vidi iz Zakuovog fleš beka da je imao borbu sa nepoznatim nindžom u toku noći, dok mu se po glavi motala misao na Oročimaruovu zapovest da bude njegovo Oružije.
Čunin ispiti
Zaku je tokom ispita čuo Kabutovu priču sa geninima lista, pa su on i njegov tim napali Kabutoa.
Tokom ispita u šumi smrti, Zaku i njegov tim dobijaju naredbu da ubiju Saskea. Medjutim Rok Li i tim deset ih sprečavaju. Saske se budi iz kome i lomi Zakuu ruke.
Zaku ipak uspeva da oporavi ruke, ali ga Šino poražava u borbi. Zaku i njegovi članovi tima nisu imali sreće, jer ih je Oročimaru žrtvovao za Reanimaciju mrtvih Hokagea predpostavlja se da je Dosu poslužio kao žrtva za neuspelo prizivanje Četvrtog Hokagea.
Ad blocker interference detected!
Wikia is a free-to-use site that makes money from advertising. We have a modified experience for viewers using ad blockers

Wikia is not accessible if you've made further modifications. Remove the custom ad blocker rule(s) and the page will load as expected.