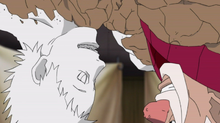 Tehnika koja povecava gravitaciju protivnika.Protivnikovo kretanje je unisteno gravitacijom.Medjutim,ova tehnika moze stvoriti simptome nalik okamenjivanju.Ova tehnika smanjuje brzinu kretanja,ali drasticno uvecava snagu protivnika.U slucaju udarca,koji je tesko postici u ovom stanju,steta po slabu osobu moze biti veoma fatalna.Znakovi rukama:zmija
Ad blocker interference detected!
Wikia is a free-to-use site that makes money from advertising. We have a modified experience for viewers using ad blockers

Wikia is not accessible if you've made further modifications. Remove the custom ad blocker rule(s) and the page will load as expected.