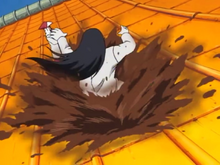 Zemljani stil je jedan od osnovnih tipova čakre. Korisniku omogućava da manipuliše zemljom koja se nalazi u okolini ili da je sam kreira ukoliko je za to sposoban. Pored zemlje, u ovaj stil spada kontrolisanje blata i kamenja. Korisnik može da promeni jačinu, sastav ili gustinu zemlje.
Odnos sa drugim čakra tipovima
Zemljani stil je jači od vodenog ali slabiji od munjevitog stila.
Zemljani stil je komponenta dva kekei genkai Lava stila i Drvenog stila.
Zemljani stil zajedo sa vatrenim i vetrovitim čini kekei totu, prašnjavi stil.
Ad blocker interference detected!
Wikia is a free-to-use site that makes money from advertising. We have a modified experience for viewers using ad blockers

Wikia is not accessible if you've made further modifications. Remove the custom ad blocker rule(s) and the page will load as expected.