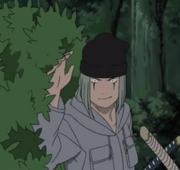 Zouri je jedan od dvojice
Gatovih
čuvara. On je takodje prvi i jedini samurai u prvom delu koji je prikazan, pored svog partnera
Varaidžija
.
Izgled
Zouri je srednjeg rasta, nosi kapu i sivu uniformu. Takodje nosi sandale i katanu koju nosi o pojasu. Zouri koristi drugu ruku od svog partenra za upotrbu katane i ima različite korice od Varaidžijev katane.
Sposobnosti
Zouri za borbu koristi samo mač, kao i Varadži.
Pozadina
Zouri i Varaidži su bili telohranitelji u službi zlog bogataša Gatoa.Gatou se suprotstavio Kaiza, kojeg je Gato kaznio naredivši dvojici svojih krupnih debelih plaćenika da mu prebiju ruke macolama, a potom ga je vezanog za stub prikazao celoj Zemlji talasa i naredio Zouriju i Varaidžiju da ga ubiju, mačevima.
Zouri i Varaidži su jednom prilikom došli u sukob sa Haku koja je štitila Zabuzu, time što je pre njih isukala njihove mačeve i zapretila im. Oba su bili zaprepašćeni njenom brzinom.
Zouri i Varaidži su dobili zadatak da otmu Tsunami, ali ih je Naruto savladao i vezao.
Zanimljivosti
Nezna se da li su ova dva samuraia obučena u Zemlji čelika ili negde drugde. Masaši Kišimoto je u intervju izjavio da ne planira da stvori samuraje na nivou nindže po moći u mangi. Posle je stvorio samuraje Zemlje čelika sa Mifuneom kao vodjom.
Ad blocker interference detected!
Wikia is a free-to-use site that makes money from advertising. We have a modified experience for viewers using ad blockers

Wikia is not accessible if you've made further modifications. Remove the custom ad blocker rule(s) and the page will load as expected.